Golden Nuggets: Key Gold and Precious Metals News, Commentary and Charts This Week
Here is our Friday digest of the important news, commentary, charts and videos we were informed of this week.
The old Wall Street adage is that they "never ring a bell at the top" but there was a real sense this week that we may have seen a turning point. U.S. stocks including both the NASDAQ and the S&P 500 have seen sharp falls already this week of 4% and nearly 5% respectively.
Weekly Relative Performance (Source: Finviz.com)
Asian and European markets did not fare much better with the Euro Stoxx 50 down 3.4% and Nikkei down 6.1% for the week.
This resulted in a rotation out of risk assets and into safe haven assets which saw certain government bonds, the dollar, gold and silver catch a bid.
Gold is 0.8% higher for the week and 3.5% higher month to date. Safe haven gold is again acting as a hedge and safe haven asset, exactly when investors need one.
Much of the news flow and price action this week was bearish for risk assets and quiet bullish for the precious metals. The world's central banks, already the biggest holders of gold, are again looking at gold as a safer reserve asset than the U.S. dollar.  Hungary increased its gold reserves by a massive 1,000% due to increasing "safety concerns."
Large banks such BofAML and Goldman Sachs are again recommending gold to their clients as a diversification. This week BofAML (Bank of America Merrill Lynch) recommended as an "asset hedge" and "value play."
Property markets around the world are seeing price falls – some sharply. This is being seen in London, Sydney, Vancouver and in other overvalued housing markets.
Prudent investors are positioning themselves in physical gold due to the increasing risks of sharp market corrections or indeed a crashes.
The 'market bells' rang a little bit louder this week …
Market Updates this Week
Dublin Housing Boom Set To Bust?
Palladium Surges To All Time Record High On Russian Supply Concerns
End Of The World As We Know It?
Key News this Week
Central Banks to Increase Gold Buying
Gold at 3-Month Highs; Flirts With $1,250 as Stocks Tumble
Gold Shorts Suffer Biggest Squeeze Since 1999 As Specs Abandon VIX-Selling Spree
Gold Recommended As Asset Hedge and "Value Play" By BofAML 
Charts this Week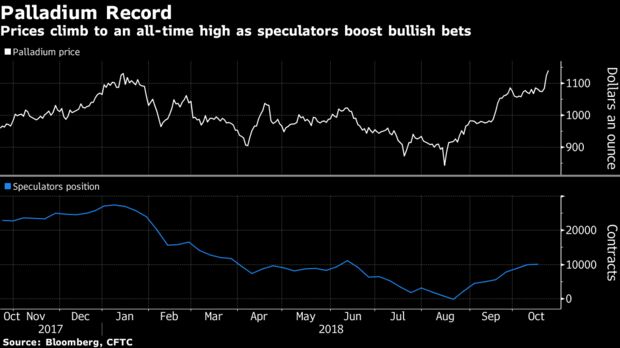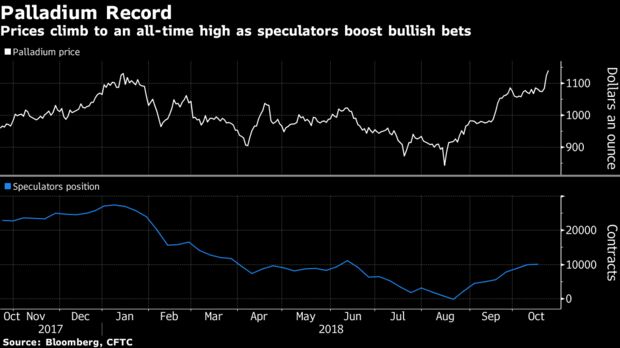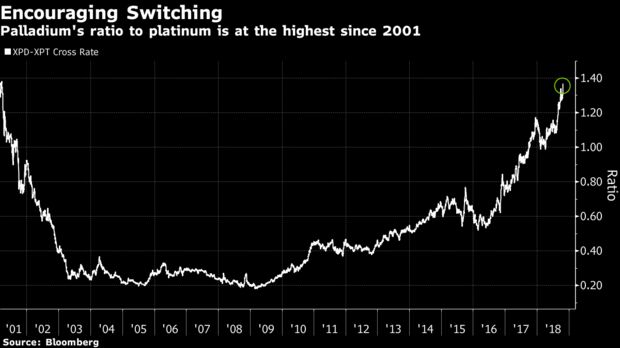 Charts via Bloomberg
News and Commentary
House prices 'falling by over $1,000 a week' in Sydney and Melbourne – Deloitte (ABC.net.au)
Asia stumbles again despite Wall St. bounce amid growth, earnings fears (Reuters.com)
Pending home sales snap back in September after 4-month losing streak (MarketWatch.com)
U.S. business spending on equipment slowing; goods trade deficit rises (Reuters.com)
Treasury official points finger at Turkey over Venezuelan gold trade (UPI.com)
Rare gold hoard unearthed in Donegal goes on display (Breakingnews.ie)
Source: PA & Breakingnews.ie
Paul Volcker, at 91, Sees 'a Hell of a Mess in Every Direction' (CNBC.com)
Wall Street analyst who called tstock-market rout sees another nasty drop (MarketWatch.com)
Here Comes The Housing Bust "Reverse Wealth Effect" (DollarCollapse.com)
Ted Butler: Why the frantic movement of silver at the Comex? (Gata.org)
Trouble In Arkansas: This Cycle's Countrywide Financial Just Imploded (ZeroHedge.com)
Wary of crypto, UK government blocks Royal Mint's digital gold (Reuters.com)
Learn More and Watch Direct Access Gold Video Here
Gold Prices (LBMA AM)
25 Oct: USD 1,232.15, GBP 954.67 & EUR 1,079.36 per ounce
24 Oct: USD 1,231.65, GBP 952.80 & EUR 1,078.68 per ounce
23 Oct: USD 1,235.60, GBP 950.67 & EUR 1,076.45 per ounce
22 Oct: USD 1,222.90, GBP 938.09 & EUR 1,062.21 per ounce
19 Oct: USD 1,228.25, GBP 942.44 & EUR 1,073.12 per ounce
18 Oct: USD 1,224.60, GBP 933.76 & EUR 1,062.83 per ounce
17 Oct: USD 1,226.75, GBP 933.68 & EUR 1,061.38 per ounce
Silver Prices (LBMA)
25 Oct: USD 14.74, GBP 11.43 & EUR 12.92 per ounce
24 Oct: USD 14.75, GBP 11.42 & EUR 12.92 per ounce
23 Oct: USD 14.71, GBP 11.33 & EUR 12.83 per ounce
22 Oct: USD 14.63, GBP 11.23 & EUR 12.72 per ounce
19 Oct: USD 14.61, GBP 11.21 & EUR 12.75 per ounce
18 Oct: USD 14.52, GBP 11.06 & EUR 12.60 per ounce
17 Oct: USD 14.65, GBP 11.16 & EUR 12.69 per ounce
Recent Market Updates
– Dublin Housing Boom Set To Bust?
– Palladium Surges To All Time Record High On Russian Supply Concerns
– "IMF Warning Highlights Gold's Importance As A Diversification and Happy Birthday GoldCore"
– Gold Reserves Surge 1,000% In Hungary As It Joins Poland, Russia, China and Other Central Banks Buying Gold
– How Do You Sell Your Digital Gold When the Internet Goes Down?
– IMF Issues Dire Warning – 'Great Depression' Ahead?
– Poland Raises Gold Holdings to Record High in September – IMF
The post Gold Gains Nearly 1% On Week As Global Stock Markets Fall Sharply appeared first on GoldCore Gold Bullion Dealer.