Gold has rallied to $1,207/oz today as stocks globally have weakened after the first press conference of incoming President Trump turned into a bit of a debacle.
Gold prices made further gains today amid reduced focus on the Fed and speculation regarding their potential rate hikes and more focus on the next four years of the Trump Presidency.
The dollar declined alongside US Treasury bond yields, although U.S. stock indices were supported yesterday and remained buoyant. Declines in Asian and European bourses today have seen U.S. futures decline this morning and the dollar has seen further losses pushing gold higher in all currencies.
Gold is likely to be supported and should rise due to the ongoing Trump versus the U.S. intelligence agencies saga which worsened yesterday amid vicious claim and counter claim. These included salacious allegations of lewd sexual acts by Trump while in Moscow and the allegation that the incoming President is being blackmailed and controlled by Russia.
There would appear to be a tussle for power and supremacy between more hawkish elements in the intelligence agencies and the incoming President. The extremely adversarial public disagreement between an incoming President with senior members of the FBI and the CIA is absolutely unprecedented.
As we told Dow Jones Marketwatch yesterday:
"Whether you like Trump or not, whether you are a Republican or a Democrat or neither, one has to acknowledge that the situation is a mess and is impacting America's standing on the world stage.

It highlights the continuing political uncertainty in the U.S. and does not bode well for the next four years as it will likely contribute to heightened geopolitical uncertainty."
There are also concerns about the increasing likelihood of trade wars, currency wars and even the potential for "hot" wars. Tensions with Russia and indeed China will not have been calmed by the Trump press conference yesterday.
Trump has angered Beijing since his election by reaching out to Taiwan, appointing China skeptics to his team, accusing China of stealing a drone and threatening punitive tariffs on the country's exports.
The revelations and tensions between the incoming U.S. President and his intelligence agencies and indeed the media first began to affect markets yesterday and again today. If this continues we may see a more meaningful impact and risk assets such as stocks and bonds will be vulnerable.
The U.S. stock markets in particular look vulnerable, as they are near record highs and looking increasingly overvalued with the Dow near 20,000. As does the dollar which is near multi year highs against many fiat currencies.
A new safe haven bid in the gold market is being seen and looks like it will continue in the coming weeks and in 2017. Indeed, in terms of the gold market, there is a good possibility that the four years of the Trump Presidency may be the "gift that keeps on giving."
The Trump press conference yesterday and its impact on markets, highlights the importance of real diversification and having an allocation to physical gold in a diversified portfolio. This will be more important than ever in the coming years.
KNOWLEDGE IS POWER
For your perusal, below are in order of downloads our most popular guides in 2016:
10 Important Points To Consider Before You Buy Gold
7 Real Risks To Your Gold Ownership
Essential Guide To Storing Gold In Switzerland
Essential Guide To Storing Gold In Singapore
Essential Guide to Tax Free Gold Sovereigns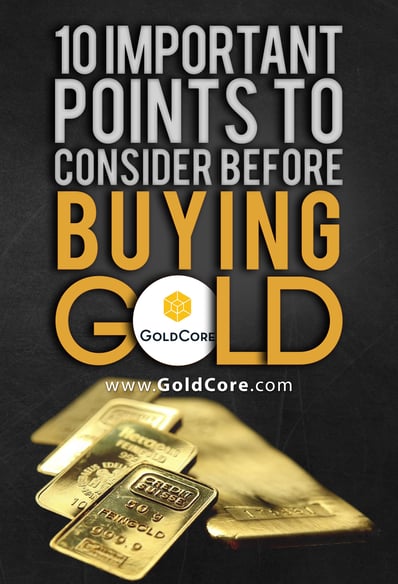 Please share our research with family, friends and colleagues who you think would benefit from being informed by it.
Gold and Silver Bullion – News and Commentary
Trump "situation is a mess and is impacting America's standing on the world stage…' said GoldCore (MarketWatch.com)
Gold Futures Edge Higher As Investors Digest Trump's Speech (EconomicCalendar.com)
Gold hits 7-week highs on weaker dollar after Trump briefing (Reuters.com)
LME Metals Trading Fails to Start on System Issues, Brokers Say (Bloomberg.com)
Dollar, S&P 500 Futures Slip as Trump Bets Unwind (Bloomberg.com)
Euro may not exist in 10 years, France's Macron says (CNBC.com)
Dollar Slumps, Bonds Rally as Trump Bets Unwind: Markets Wrap (Bloomberg.com)
All Roads Lead To Gold – Top Sovereign Wealth Fund Adviser (KingWorldNews.com)
Tom DeMark Says Put Your "Dow 20,000" Hats Away (ZeroHedge.com)
Fears of a 'massive' global property price fall (Telegraph.co.uk)
Gold Prices (LBMA AM)
12 Jan: USD 1,206.65, GBP 984.39 & EUR 1,135.82 per ounce
11 Jan: USD 1,187.55, GBP 979.25 & EUR 1,128.41 per ounce
10 Jan: USD 1,183.20, GBP 974.60 & EUR 1,118.12 per ounce
09 Jan: USD 1,176.10, GBP 968.75 & EUR 1,118.59 per ounce
06 Jan: USD 1,178.00, GBP 951.35 & EUR 1,112.27 per ounce
05 Jan: USD 1,173.05, GBP 953.55 & EUR 1,116.16 per ounce
04 Jan: USD 1,165.90, GBP 949.98 & EUR 1,117.40 per ounce
03 Jan: USD 1,148.65, GBP 935.12 & EUR 1,103.28 per ounce
30 Dec: USD 1,159.10, GBP 942.58 & EUR 1,098.36 per ounce
Silver Prices (LBMA)
12 Jan: USD 16.91, GBP 13.77 & EUR 15.87 per ounce
11 Jan: USD 16.79, GBP 13.84 & EUR 15.96 per ounce
10 Jan: USD 16.66, GBP 13.73 & EUR 15.76 per ounce
09 Jan: USD 16.52, GBP 13.57 & EUR 15.69 per ounce
06 Jan: USD 16.45, GBP 13.30 & EUR 15.54 per ounce
05 Jan: USD 16.59, GBP 13.47 & EUR 15.80 per ounce
04 Jan: USD 16.42, GBP 13.36 & EUR 15.74 per ounce
03 Jan: USD 15.95, GBP 12.97 & EUR 15.34 per ounce
30 Dec: USD 16.24, GBP 13.20 & EUR 15.38 per ounce
Recent Market Updates
– Prince Owned Land and Gold Bars Worth $800,000
– Gold Price In GBP Up 4% On Brexit and UK Risks
– 2016 Past is 2017 Prologue
– Gold Gains In All Currencies In 2016 – 9% In USD, 13% In EUR and Surges 31.5% In GBP
– Trump's Twitter "140 Characters" To Push Gold To $1,600/oz in 2017?
– 2017 – The Year of Banana Skin
– US: Five Must Gold See Charts – Gold Miners Are "Running Out" of Gold
– Royal Mint And CME Make A Mint On The Blockchain?
– China Gold and Precious Metals Summit 2016 – GoldCore Presentation
– Trumpenstein ! Who Created Him and Why?
– Bail-Ins Coming? World's Oldest Bank "Survival Rests On Savers"
– Fed's "Fool Me…", Silver Suppression, Euro Contagion In 2017?
– Fed Raised Rates 0.25% – Rising Rates Positive For Gold
The post Gold Rallies To $1,207 After Trump Press Conference Shambles appeared first on GoldCore Gold Bullion Dealer.