(Reuters) – Poland raised its gold holdings to the highest in at least 35 years, data from the International Monetary Fund showed on Monday.
The country increased its holdings by 4.4 tonnes from August to about 117 tonnes in September, a record, according to data going back to January 1983.
"We have a really exciting announcement coming this Thursday, learn more about it here…"
"While the exchange-traded funds (ETFs) were losing tonnage, the central banks were buying since they had to maintain domestic currency values against a rising dollar," said George Gero, managing director at RBC Wealth Management.
"I think you will see that continuing. Central banks are trying to maintain some hold on their currencies by storing gold."
Holdings of SPDR Gold, the largest gold-backed ETF, have registered declines of more than 4 million ounces since hitting a peak in late April as investors have preferred the safety of the U.S. dollar against a backdrop of rising interest rates and as a U.S.-China trade tussle unfolds.
The trade dispute and rising dollar have in turn weighed on emerging markets, with the Polish zloty declining more than 6 percent this year.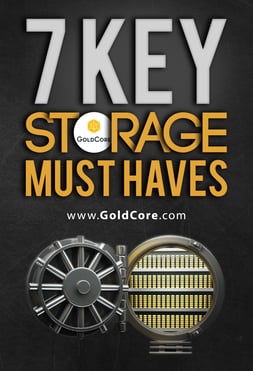 News and Commentary
Poland raises gold holdings to record high in September – IMF (Reuters.com)
Gold hovers near 2-1/2 month high as investors seek safe haven refuge (Reuters.com)
Gold Rises To Near 3-month High (RTTNews.com)
West-Saudi tensions lift safe havens; world stocks slip (Reuters.com)
U.S. budget deficit jumps to $779 billion (MarketWatch.com)
Goldman Sachs' seedy underbelly exposed in shocking tapes (NYPost.com)
Source: Bloomberg
How to avoid being ruined by nasty stockmarket surprises (MoneyWeek.com)
'Great Depression' Ahead? IMF Sounds Dire Warning (ATimes.com)
We Saw Similar Setups In 2000 & 2007 (ZeroHedge.com)
Oil Jumps After Saudi Official Floats "Trial Balloon" Op-Ed Envisioning "Oil Weapon" Devastation (ZeroHedge.com)
Last Week Was Just A Taste Of The Coming Gold Short Squeeze (SeekingAlpha.com)
Listen on SoundCloud , Blubrry & iTunes. Watch on YouTube below
Gold Prices (LBMA AM)
15 Oct: USD 1,233.00, GBP 937.70 & EUR 1,064.45 per ounce
12 Oct: USD 1,218.75, GBP 922.11 & EUR 1,052.15 per ounce
11 Oct: USD 1,201.10, GBP 910.31 & EUR 1,040.27 per ounce
10 Oct: USD 1,186.40, GBP 902.02 & EUR 1,033.00 per ounce
09 Oct: USD 1,187.40, GBP 910.26 & EUR 1,036.01 per ounce
08 Oct: USD 1,194.80, GBP 914.86 & EUR 1,040.67 per ounce
Silver Prices (LBMA)
15 Oct: USD 14.74, GBP 11.19 & EUR 12.71 per ounce
12 Oct: USD 14.60, GBP 11.04 & EUR 12.60 per ounce
11 Oct: USD 14.40, GBP 10.90 & EUR 12.45 per ounce
10 Oct: USD 14.38, GBP 10.92 & EUR 12.50 per ounce
09 Oct: USD 14.33, GBP 10.98 & EUR 12.51 per ounce
08 Oct: USD 14.47, GBP 11.10 & EUR 12.61 per ounce
Recent Market Updates
– Why It's Worth Holding Gold Bullion in Your Portfolio
– Gold's Best Day In 2 Years Sees 2.5 Percent Gain As Global Stocks Sell Off – This Week's Golden Nuggets
– Gold Up 2.5 Percent As Global Stock Rout Spreads To Europe
– "Gold Is On The Cusp" Of An "Explosion Higher" As Stock and Tech "Crash Is Coming"
– Gold Bottoms As Gold Industry Consolidates and Weak Hands Capitulate
– 60 Charts For The (Last Few Remaining) Gold Bulls
– Poland and Australia Buy Gold As Global Property Bubble Bursts – This Week's Golden Nuggets
– Brexit To Burst Dublin and London Property Bubbles? GoldCore Video
– Perth Mint's Gold and Silver Bullion Coin Sales Soar In September
– "I'm Favouring Equities and Gold Over Bonds" – Stepek
– Poland Buys Gold For First Time In 20 years
– This Week's Golden Nuggets – Central Banks, Goldman, Bank of America Positive On Undervalued Gold
The post Poland Raises Gold Holdings to Record High in September – IMF appeared first on GoldCore Gold Bullion Dealer.