Gold Up 2.5 Percent As Global Stock Rout Spreads To Europe
– Gold gains 2.5% as stock markets fall globally
– Gold, silver outperform all assets in stock market rout
– Trump accuses Fed of going "crazy" by continuing to raise rates
– Huge spike in VIX and volatility on deepening concerns of market correction or crash
1 Day Relative Performance (Finviz)
Gold has gained 2.5% today on safe-haven demand as sharp declines on Wall Street spread throughout Asia and Europe.
Stocks in Europe have slumped to a more than 18-month low after sharp losses on Wall Street, centered on tech stocks and the Nasdaq.
The worst losses in eight months triggered a significant sell-off in stocks in Asia. China's main stock indexes slumped over 5 percent and MSCI's broadest index of Asian shares not including Japan ended down 3.6 percent, having struck its lowest level since March 2017.
It meant MSCI's 24-country emerging market index had its worst day since early 2016, after Wall Street's swoon had given the 47-country world index equivalent its worst day since February.
The losses were not helped by President Donald Trump accusing the  Federal Reserve of going "crazy and "loco" as trade wars appear to be intensifying.
The VIX or Cboe Volatility Index has more than doubled in the last week. The huge spike in volatility comes as there are deepening concerns of a major market correction – particularly in the U.S.
Gold and silver, the traditional havens in times of volatility, are again displaying their lack of correlation and frequent inverse correlation (over the long term) with risk assets. The precious metals' hedging benefits to investors portfolios are being seen as they again benefit from a safe haven bid exactly when investors need it.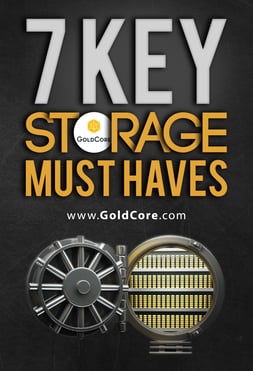 News and Commentary
Stock Rout Spreads as Bonds, Currencies Stay Calm for Now (Bloomberg.com)
Gold prices edge higher as global stocks sag, U.S. dollar slips (Reuters.com)
India's Sept gold imports drop 14 pct on weak rupee-GFMS (Reuters.com)
Dow plunges more than 800 points in worst drop since February (CNBC.com)
U.S. bond yields near seven-year high stymie world stocks' recovery (Reuters.com)
Source: Bloomberg
Trump says the Federal Reserve has 'gone crazy' by continuing to raise interest rates (CNBC.com)
Major Event Looms As Italy's Lega Popularity Rises With Each EU Confrontation (ZeroHedge.com)
We Are In Uncharted Junk Terrain: Corporate Credit Quality Is Far Weaker Than In 2000 And 2007 (ZeroHedge.com)
US-Russia tensions threaten nuclear arms race and tensions (FT.com)
Crypto theft hits nearly $1 billion in first nine months, report says (Reuters.com)
Listen on SoundCloud , Blubrry & iTunes. Watch on YouTube below
Gold Prices (LBMA AM)
10 Oct: USD 1,186.40, GBP 902.02 & EUR 1,033.00 per ounce
09 Oct: USD 1,187.40, GBP 910.26 & EUR 1,036.01 per ounce
08 Oct: USD 1,194.80, GBP 914.86 & EUR 1,040.67 per ounce
05 Oct: USD 1,201.10, GBP 921.48 & EUR 1,045.08 per ounce
04 Oct: USD 1,199.45, GBP 925.02 & EUR 1,043.28 per ounce
03 Oct: USD 1,203.50, GBP 925.73 & EUR 1,040.55 per ounce
Silver Prices (LBMA)
10 Oct: USD 14.38, GBP 10.92 & EUR 12.50 per ounce
09 Oct: USD 14.33, GBP 10.98 & EUR 12.51 per ounce
08 Oct: USD 14.47, GBP 11.10 & EUR 12.61 per ounce
05 Oct: USD 14.64, GBP 11.23 & EUR 12.73 per ounce
04 Oct: USD 14.63, GBP 11.27 & EUR 12.72 per ounce
03 Oct: USD 14.74, GBP 11.36 & EUR 12.75 per ounce
Recent Market Updates
– "Gold Is On The Cusp" Of An "Explosion Higher" As Stock and Tech "Crash Is Coming"
– Gold Bottoms As Gold Industry Consolidates and Weak Hands Capitulate
– 60 Charts For The (Last Few Remaining) Gold Bulls
– Poland and Australia Buy Gold As Global Property Bubble Bursts – This Week's Golden Nuggets
– Brexit To Burst Dublin and London Property Bubbles? GoldCore Video
– Perth Mint's Gold and Silver Bullion Coin Sales Soar In September
– "I'm Favouring Equities and Gold Over Bonds" – Stepek
– Poland Buys Gold For First Time In 20 years
– This Week's Golden Nuggets – Central Banks, Goldman, Bank of America Positive On Undervalued Gold
– Central Banks Positivity Towards Gold Will Provide Long Term "Support To Gold Prices"
– Europe Unveils "Special Purpose Vehicle" With Russia and China To Bypass SWIFT, Jeopardizing Dollar's Reserve Status
– Gold Set to Soar Above $1,300 – Goldman and Bank of America
The post Gold Up 2.5 Percent As Global Stock Rout Continues appeared first on GoldCore Gold Bullion Dealer.